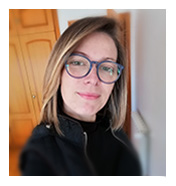 [PAINTINGS]
Paola Moreira

Brazilian, born in Ribeirão Preto, São Paulo, studied Pedagogy at USP, taught for a while, but her true passion has always been the arts. Since she was a little girl, she lived drawing and painting, participated in artistic projects, and studied classical piano for over 10 years.

His reunion with painting is still recent, in 2021, through a dream, an insight, and some fabric paints, a curious story that has already been reported on his Instagram profile (@paolaart7). Since then painting has resumed its post, becoming his object of study and daily work.

In 2022, she moved with her husband and children to Portugal, where she was able to participate in her first exhibition, the Exhibition Images that are acts promoted by Opala Academia de Belas Artes. On the occasion, she had two works exhibited, one of them, Bailarinas na Montanha, awarded with an Honorable Mention.

His style permeates between abstract and surrealism. The paintings are colorful and vibrant, bringing joy to the environment, a magical portal to our inner world.