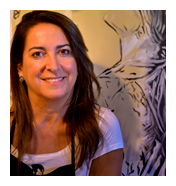 [PAINTINGS]
Carmo Almeida is from Lisbon, graduated in Mathematics Applied to Computing. With an intense professional life in Telecommunications companies, she has always designed and painted, but it was in 2014 that she seriously dedicated herself to painting.

She started her artistic training in 2014 at the Atelier Internacional de Belas Artes, where she took courses in Acrylic, Oil and Watercolor. Since then, she has participated in several collective exhibitions and since 2016 she exhibits in commercial galleries in Lisbon.

In 2017 she held her first solo exhibitions in Lisbon and Porto. In 2019, she founded Park.ARTE, a community of Artists from Parque das Nações with the aim of promoting Art in hers neighbourwood.

She is passionate about Lisbon and Photography (landscape and street photography). She is inspired by hers street photographs to create Stories about Lisbon and give them life in acrylic on canvas.

Her pictorial language can be called contemporary impressionist because it uses loose brush strokes without concerns of realism, but rather portraying objects through the contrast of color and light, leaving the brush stroke marked and visible.

The brushstrokes are scratched almost as if she is drawing, the palette is smooth, with some colorful notes. The paints are acrylic but often used in a very diluted way.